Sponsored Links
Are you an investor seeking 50x or 100x in Crypto? In this article, I will tell you how to Know The Particular Cryptocurrency Project to buy or Invest in.
.
In case you want to make massive gains in cryptocurrency, there are many fundamentals you look out for. Besides, researching about the team and companies behind the crypto project, the tokenomics is a very important aspect you need to check out before investing in any cryptocurrency project.
.
Cryptocurrency Tokenomics – Why so important?
I'm sure some of you may be surprised why tokenomics is coming before the team on the list of things to look for in a project.
.
I can tell a good project and a scam project in less than 2mins…
And one thing that reveals a lot about a project is the tokenomics.
.
The tokenomics can tell you if the team is amateur, if the project is a scam and who the project is created for (VCs or Users).
You may not know but some projects are created for VCs and not for users.
Look at these different examples.
.
PROJECT A – Octopus Network ($OCT)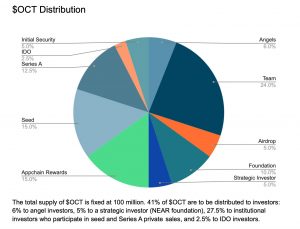 This is the token distribution copied from their whitepaper
.
"The total supply of $OCT is fixed at 100 million. 41% of $OCT are to be distributed to investors: 6% to angel investors, 5% to a strategic investor (NEAR foundation), 27.5% to institutional investors who participate in seed and Series A private sales, and 2.5% to IDO investors."
.
A whopping 41% of the total supply will be given to people who will get it at a dirty cheap price. It's like giving out 41% of the tokens for free because any token that is given to VCs (Private sales, seed funds) are free tokens in my opinion. ( I know they pay to get them but I call them free because it's usually very cheap and they can dump on you anytime)
.
Now apart from the 41% to investors, another 24% is for the team.
And an additional 5% for Airdrop.
.
That's a total of 70% of the token to be distributed for free. So you that will be buying on a DEX or CEX thinking you are investing will just be wasting your time because these guys will dump on you.
.
Now let's look at 2 examples of projects created for users
.
PROJECT B – Axie Infinity (AXS)
.
Here is their token distribution
.
Staking reward: 29%
Play to earn: 20%
Sky Mavis (team): 21%
Ecosystem funds: 11%
Private Sale: 4%
Public Sale: 11%
Advisers: 7%
.
Do you get the gist now?
.
Both public sale, private sale and even advisers token is 22%!
.
Now the majority of the tokens can only be gotten by the users either by playing the game or staking. So if you don't stake, no free token for you.
.
If you don't actually use the game, no free token for you.
.
You can see the Tokenomics is designed in such a way that more of the tokens are given to the users and not to VC.
.
So basically, no one person can easily dump on you except the team. But that brings us to the vetting schedule. On your own, go research 'vetting schedule' and how it affects the price of a coin.
.
Now let's look at another example.
.
PROJECT C: Aurox Token (URUS)
See the token distribution copied from their website.
.
450k = Uniswap Launch (45%)
150k = Team Reward (15%)
100k = Reserves (10%) for the development and utilization of the Aurox Protocol.
50k = Exchange Listing Reserves (5%)
250k = Public (25%) For liquidity providers and token staking.
1 Million Tokens Total.
.
No advisors, venture capitalists, promoters, or influencers will receive any tokens.'
.
NO VC, NO PRIVATE SALE, NO PRESALE means that everyone will have to buy this coin from the market the same way you and I will buy. So nobody will get a free token and dump on me.
.
NO VC, NO PRIVATE SALE, NO PRESALE also means that this project was bootstrapped!
.
These guys actually use money from their pockets to fund the project. This is not very common in crypto.
.
It's one of the reasons I so much love the URUS token, in fact, if you check my Facebook profile, it's the first coin I recommended publicly. I started buying at $23 and it went as high as $285 per token.
I'm sure by now, you get the point.
.
I can go on and on with different examples.
.
But here are 2 rules I follow.
.
1: For me to invest in a project, if staking is part of the token utility, then the team must allocate a good number of the total supply to staking.
.
2: The team token must not be more than 20%. (best is 10-15%)
.
Depending on the complexity of the project and the potentials, I can still buy if the team token is a little more than 20% like in the case of AXS which is 21%. You'll agree with me that that's not an easy game to develop so 21% over a vesting period of 6 years is fair enough.
.
I know this article may be very hard for complete newbies to understand…
Read and re-read the post.
Like I said before, crypto trading and investment is a profession.
It's a serious business so don't be discouraged.
Sponsored Links