Sponsored Links
Are you searching for how to know a fake or scam crypto project?
One of the easiest things for me in crypto is spotting a scam project. I know that may come as a surprise to many of you reading this.
.
But like I mentioned in part in my
former post
, I can tell a scam project in less than 2mins.
.
Cryptocurrency Scams and How To Spot Them
.
Here's how to detect fake and scam cryptocurrency projects.
.
First, during the metaverse hype around November last year, I had one single rule.
If I visit a project's Twitter account and it was created around August/September 2021, I skip it. Because I know 99.9% of them are scams and that's what it turned out to be.
.
The reason, like I mentioned in part 5 of this series, it takes time to build.
.
Especially the metaverse that's very heavy. So I won't put my money on any project coming out now with a promise to build because everyone is talking about the metaverse. I'd rather buy old projects that have been building for years before the hype.
.
The bottom line ? be wary of new projects. It's one of the easiest ways to avoid scams.
.
2: The Call to Action (CTA).
.
Legit project's website is centered around their product. They welcome you with what they do. The CTA is usually for you to try their product or explore their ecosystem.
.
But scam projects website is all about the token. The CTA is usually to buy. Like, they just want you to BUY! (remember what we discussed in part 7).
.
3: The Roadmap
.
A Scam project's roadmap is always full of marketing.
Check these 2 websites as examples.
Teslashiba.co and Fiaprotocol.com
They are both scam projects.
.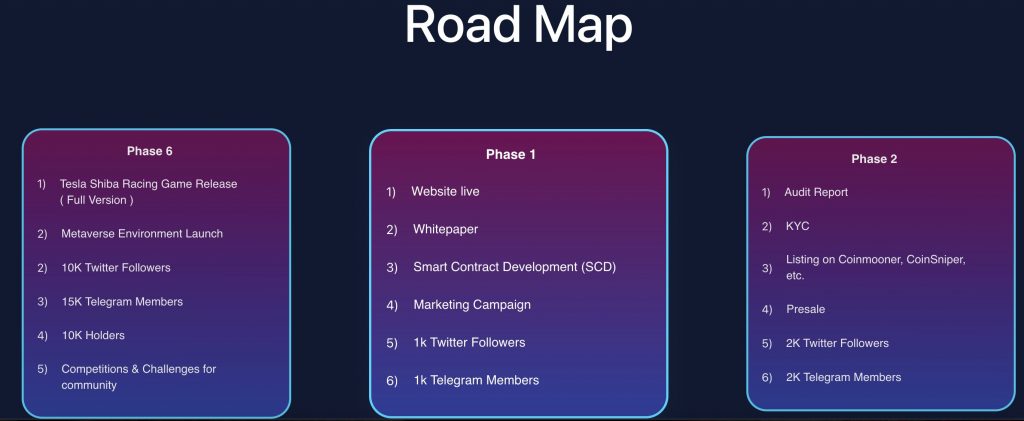 Notice the similarity in their roadmaps.
You'll see it's all about marketing, marketing, marketing!
.
That tells you they don't have real plans for a product. They just want to pump the price and cash out.
Unfortunately, this is what appeals to gullible crypto traders, hence the reason they fall for scams.
.
Even if you're completely new to crypto, the roadmap alone will help you know if a project is a scam or not.
If you see it's all about marketing with weird goals like tier 1 exchange listing, hitting 5k Twitter followers, getting to so and so market cap, RUN! – It's a scam.
.
Some scammers sometimes buy old Twitter accounts that they use for their activities. So even if you check Twitter and it's an old account, the roadmap will tell you if that's true or not.
.
For instance, you check a coin, The Twitter account was created in 2019.
You open their website and the roadmap shows the project started in 2021. That's a red flag.
And if the roadmap says they started in 2019 and the Twitter account shows 2021, that's also a red flag.
.
Because the first thing every company does in its early stage is to create a social media presence. If their roadmap isn't consistent with their social media accounts, RUN.
.
Another area to look at is the team.
.
If you check the 2 projects I mentioned above, Tesla Shiba didn't border to add information about the team on their website while Fia Protocol added some random pictures, gave them roles (no founder or co-founder), and link to telegram profiles.
.
No real project will add the telegram account links of their founders/marketers on their website. It doesn't make any sense. They'll rather use Linkedin if they must add a link.
Sponsored Links